Looking for a new bike? Want one that's going to last? If you want the best of the best, you'll need to go with a fancy belt-drive bicycle for your new bike. Belt-drive bicycles last longer and require less maintenance than typical chain bicycles. They're lighter and therefore take less energy to pedal.
That sounds pretty great, no? If you're sold and ready to start looking for your new belt-drive bike, you've come to the right place. In this list, we're going to show you the best belt-drive bikes out there so that you can upgrade your eco-friendly commute to the standard you deserve.
Carry on reading to see our full list of the best belt drive bicycles, followed by a recap breaking down what makes each product on our list stand out. Or jump straight to our number #1 pick here.
What Should You Look For in a Belt-Drive Bicycle?
First things first – what separates the good belt-drive bikes from the bad ones? At the end of the day, a belt-drive bike is still just a bike, so if you know what to look for in a standard chain bicycle, you're off to a good start, but there are obviously some differences. One particular factor to keep in mind is that belt-drive bikes are intended more for travel and commuting than for sport. And with that, we're going to lay out the criteria we used to evaluate the best belt-drive bikes so that you can follow along and understand our thought process.
Criteria #1: Control – If you're using your new belt-drive system bike to commute in a busy and bustling city, you'll need to compete with traffic every now and then, and you'll definitely want a bike that listens to your every touch so that you can stay safe. This means that we're looking for belt-drive bikes with the right tires that will help you steer and turn easily and with good brakes to help you stop at the drop of a hat. It'll also be nice if you have multiple gears, so you can kick things up a notch when it isn't rush hour.
Criteria #2: Stability – Since you should be using your new belt-drive system bike mostly just for commuting, it doesn't need to be able to handle bumps in the road as well as a mountain bike. That being said, we still want you to be able to enjoy a smooth ride and not feel every stray pebble. We're looking for the best belt-drive bikes with a sturdy frame and solid suspension to give you a smooth and comfortable ride across town.
Criteria #3: Weight – In a society that preaches "bigger is better", bikes are the contrarians. Ideally, you want your bike to weigh as little as possible. The lighter your bike, the less effort it'll take to peddle, and the faster you'll be able to go while wasting less energy. A light bike will save you from showing up to work in a sweat just because you decided to reduce your carbon footprint or save yourself that bus money.
Criteria #4: Price – We're not here to make you spend a ton of money for no reason. Meeting this criterion is less about being cheap and more about justifying your price. We'd rather buy an expensive product that's cheaper than it should be than waste money on a cheaper product that isn't worth the money and that will just break on you or not perform well.
Here's How We've Determined the Best Belt Drive Bicycles
We measured the specs of the top products on the market against our listed criteria to see how they held up and if they're worth buying. We also made sure to focus on any standout extra features a bike may have, and we took care to include a variety of bikes in our list so that everyone will find the perfect belt-drive bike for their specific needs. We then checked customer reviews, blog posts, and "best belt drive bikes" articles to see if the products on our list performed as advertised.
And without further ado, here is our list – tailored to your specific needs – of the best bicycles with a belt-drive system.
To get our list started, we have the Priority Bicycles Classic Plus Gotham Edition, which is the perfect belt-drive bike for any commuter. This bike offers you a grease- and rust-free Gates Carbon Drive Belt to keep all of that pesky maintenance to a minimum. You're also getting the top-of-the-line, 3-Speed Shimano Nexus internally-geared rear hub that will save you the trouble of shifting gears.
This belt-drive bike features a rust-free aluminum frame that's lightweight and durable and won't be too much of a hassle to carry up to your apartment. (The city lifestyle is rough sometimes.) The real kicker is that you have puncture-resistant tires, so you don't need to worry about that sidewalk being a little higher than you thought or about any random trash or construction rubble in the road ruining your bike.
Next, the Priority Bicycles Classic Plus Gotham Edition comes equipped with V brakes in the front and rear so you'll have the best stopping power to make sure you're prepared for that sudden red light that you decided you can't beat at the last second. Finally, this bike features commuter-style handlebars to make the purpose of the product clear. It also has a convenient water bottle holder on the base so you can save some room in your backpack, and you'll have a fresh drink waiting for you the second you get to work or back home after a long day.
I couldn't very well review our number one product without discussing the price, and that might be the area where the Priority Bicycles Classic Plus Gotham Edition excels the most. Belt-drive bikes can get pretty expensive, with a lot of the more luxurious options being well over one thousand dollars. So to find a high-quality, belt-drive bike that's as cheap as the Priority Bicycles Classic Plus Gotham Edition is quite the treat.
Priority Bicycles has a torrent of good press to make you feel comfortable in your decision, and you'll see at least one of their bikes on any "top ten" list. If you're looking for the perfect belt-drive commuter that's affordable and low-maintenance, you're looking for the Priority Bicycles Classic Plus Gotham Edition.
---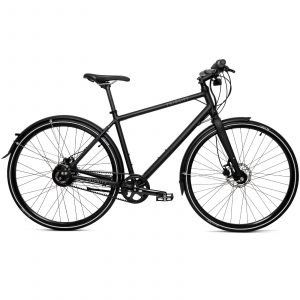 Right after mentioning how prestigious Priorities Bicycles is, I get to introduce you to another one of their incredible belt-drive system bikes – the Continuum Onyx. The unfortunate drawback of the Priority Bicycles Continuum Onyx is that it's one of those more expensive belt-drive bikes I mentioned earlier. Of course, sometimes you get what you pay for, and this pricey belt-drive bike also has some features that our number one bike is lacking. So if the Priority Bicycles Classic Plus Gotham Edition caught your eye but also left you looking for more, here are a few reasons you might decide to splurge for the Priority Bicycles Continuum Onyx.
Reason #1 to Choose This Product: Winter Tires
If you live somewhere that gets a decent amount of snowfall, you're probably used to simply putting your bike away for the winter months and waiting until things warm up again before bringing it back out. But with the Priority Bicycles Continuum Onyx, you can save money on your morning commute all year round. The Onyx features patented Klondike winter studded tires that will make biking through the snow a breeze. Just like the Classic Plus's tires, these tires are puncture-resistant, but they also feature studs that will help them breeze through the snow. If you usually spend the winter days counting down the seconds until you can finally hop back on your bike, you'll need to buy this belt-drive bike.
Reason #2 to Choose This Product: Reflective Sidewall
If you live in the kind of area that necessitates winter tires, the chances are you probably also get some early nights in the colder months. If that's the case, you'll definitely need the reflective sidewall of this belt-driven bike to make sure you stay safe riding through the dark of night. In addition to the reflective sidewall, the Continuum Onyx also comes with front and rear dynamo powered lights, and the front headlight even has a USB charging port attached to it. This belt-drive bike is the perfect commuter bike for the winter.
In addition to being one of the best winter-time bikes on the market (take note, if you still have a Christmas present you need to buy), this bike has the same low-maintenance Gates carbon belt drive system as our last Priority Bicycles product, and it's equipped with top-of-the-line Shimano hydraulic disc brakes to make sure you're always ready to stop at the drop of a hat.
When it comes to specs, there's no real question, this bike is superior to the Gotham Edition Classic Plus. The only reason it was relegated to our number two spot is because of its price, so if that's a bullet you're willing to bite, this carbon belt-drive bicycle might just be the best bike on the market.
---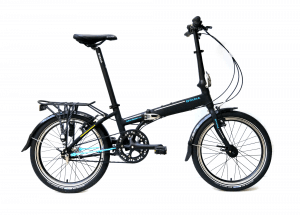 If you're in a position where you know you'll have to carry your bike around a lot – maybe into your office building or up a flight of stairs or two to get to your apartment – it's probably a good idea to invest in a convenient foldable bike. And if you need a foldable bike that also has a high-quality belt-drive system, there's no better option than the Oyama Skyline IN7B.
Perhaps second only to the Netherlands, Japan has a thriving biking culture, especially when it comes to commuting. Biking is seen as just as valid a form of transportation as driving or taking public transit. That means that, if your bike is coming from Japan, you can be pretty confident that you're getting a high-quality product.
As for the Oyama Skyline IN7B, this belt-drive system foldable bike features a 7-speed internally heard hub, powerful V brakes, and sturdy double-wall alloy wheels to make sure that this foldable bike is just as durable as our other belt-drive bikes. This Oyama belt-drive bicycle also really embraces the commuter niche, and Oyama specifically advertises that this bike has the kind of easy-to-handle steering that's perfect for maneuvering through traffic. You're also getting a lightweight alloy seat post that will keep you nice and comfy during your emission-free commute.
This foldable bike really manages to avoid sacrificing any utility in the pursuit of convenience. With this bike, Oyama still provides you with a kickstand, rear racks, fenders, and a bell on the handlebars to help you alert upcoming pedestrians. There's also a rack that's perfect for students, or anyone who enjoys biking to that grocery store that isn't quite in walking distance but has all the better options.
Finally, this bike is as cheap as they come, and it's in about the same price range as our number-one ranked Classic Plus Gotham Edition. If you want a belt-drive bike that will stay portable and convenient even when you're not riding it, you'll have to buy the Japanese-made Oyama Skyline IN7B.
---
I can tell you from personal experience that belt-drive bikes are usually pretty pricey. You already saw the Continuum Onyx, and trust me, that only scratches the surface. That's what makes the Brilliant Bicycles Carmen Bike such a steal. At this price, you'd think you're buying a standard chain bike instead of one with a high-quality belt-drive system.
This affordable belt-drive bike comes with the Shimano 3-speed hub and the Gates carbon belt drive system that will let you keep on pedaling for years to come. You're also getting high-quality double-wall alloy wheels with stainless spokes, fast-stopping liner pull brakes, and quick 700 x 32 centimeter tires.
Finally, this bike is intended for riders between heights of 5'2″ and 6'2″, so unless you're very tall or very short, you should have no problem using this budget commuter bike to get to and from work or school every morning. One of the appeals of biking is that it will save you money on gas or public transit, so why not speed up the return by cutting the upfront price in half with the affordable and high-quality Brilliant Bicycles Carmen Bike.
---
If you're looking to buy your child a bike, a good, sturdy, belt-drive bike could be a great way to save yourself some future headaches. Belt-drive bikes are more durable than standard chain bikes, and we know how accidentally destructive children can be. Besides that, an older chain bike might have some rust on it that can rub off on your child's pants and add to your already exhausting cleanup duties.
If you want to get your child a durable bike that won't add to your laundry load at all, the Belsize 20-Inch Belt-Drive Kid's Bike is a great option for you. This lightweight bicycle is targeted at riders ages 7 through 10, and it weighs only 14 pounds, so even your youngest child won't have too much trouble with it. It also has 20-inch wheels that will be easy to steer so your child can stay safe, and it has a reliable linear-pull brake system.
This bike only has one speed, so your child won't have to learn about gear-shifting while they're still getting the hang of bike-riding in general. Perhaps best of all, 96% of this bike is assembled by the time it comes to your home, so you'll be able to set it up as quickly as possible and send the apple of your eye on their merry way.
Finally, as it should be with such a small bike, the Belsize 20-Inch Belt-Drive Kid's Bike is nice and affordable, and it's cheaper even than the Brilliant Bicycles Carmen Bike, making it by far the cheapest bike on our list. The Belsize 20-Inch Belt-Drive Kid's Bike proves that kid-friendly doesn't have to be a euphemism for a cheap and bad product. This bike will last until your child is big enough for an adult-sized bicycle.
---
What's the Advantage of a Belt-Drive Bicycle?
You may still be wondering what exactly it is you're getting with belt-drive bikes. The answer is that belt-drive bikes are, as we've mentioned, much more durable than typical chain bikes. But on top of that, they also demand much less upkeep, as it's much less likely that you'll have to replace the belt-drive system than a chain.
Belt drives aren't prone to rust, and they'll also save you those grease spots that can come from said rust. Plus, the belt drive makes less noise than the sound of a chain running back and forth. Of course, the drawback of belt-drive bikes is that they're typically more expensive, but I think we've proved on our list that there are affordable belt-drive bikes available, if you know where to look.
Verdict: Your Best Belt Drive Bikes
We're reaching the end of our list, and we've shown you five top-quality, affordable (mostly), belt-drive bikes that are perfect for any busy commuter who wants to cut back on their commuting costs or their carbon footprint. It's understandable if you still haven't made your decision on which bike is best for you, but we want to make sure you're as close to ready as possible before we send you on your way.
That's why we've provided a quick recap of all of our top bikes that will focus on the standout features each bike has over the rest of the competition. This way, you can hone in on the important traits that you, in particular, may need, and you can get a bike that's suitable for your lifestyle instead of just any old belt-drive bike.
If you want the best value for money, pick the Priority Bicycles Classic Plus Gotham Edition.
When it comes to the ratio of cost-to-quality, the Gotham Edition of the Classic Plus is right in the Goldilocks Zone. This affordable bike comes with the standard Gates carbon belt drive system, as well as a rust-free and lightweight aluminum frame. You're also getting dual-end V brakes with commuter-style handlebars and a convenient water bottle holder. Finally, you're getting amazing puncture-resistant tires. From the tires to the belt drive and the frame, this bike requires virtually zero upkeep or maintenance, and it doesn't even cost too much. It's our clear number one pick.
If you need something for the winter, pick the Priority Bicycles Continuum Onyx.
If you don't want to put your bike away during the winter, then you'll need a bike that can stand up to the cold and the snow just as much as you can. Our luxury item belt-drive bike features the same Gates carbon drive as its predecessor, and it also comes equipped with a reflective sidewall to help you stay safe at night, as well as trade winter tires that will have no problem plowing through some snow. This bike is the best friend of any snow bunny.
If you want to keep the spending cheap, pick the Brilliant Bicycles Carmen Bike.
Here's proof that belt-driven bikes don't have to cost you an arm and a leg. This bike comes with the Gates carbon drive belt, the Shimano 3-speed hub, and large and fast 700 x 32 centimeter tires. It has every standard feature you could ask for in a chain-free bicycle, and at that price, its value can't be beat. You're paying a low price for a bike that will last you for years to come without any grueling maintenance.
That brings us to the end of our list. If none of the highlighted options above were quite what you're looking for, you may be more interested in the convenient and foldable Oyama bike or the kid-friendly Belsize 20-Inch Belt-Drive Kid's Bike.
Remember to think about what your top priorities are. This will really speed up the decision-making process as you realize how few bikes really offer what you need. That's all for now. Enjoy your brand-new bike!